Media freedom and development
MISA Zambia addresses various challenges affecting media freedom as an important principle of democracy. As such, we conduct research and advocacy on the level of media freedom and related policy or legal developments.
To achieve this, we employ different strategies such as public education, legal defense, compilation of alerts, training and other advocacy interventions. Further, MISA Zambia engages key stakeholders and decision makers, who may have influence on the process of enacting media reforms for the betterment of the media landscape.
As part of media development and support, we help to strengthen the role of the media in the governance process to facilitate citizen participation for increased accountability and participatory decision making.  We undertake technical capacity building activities, provision of grants to help with progamme production and development on specific topics in relation to governance and general welfare of rural communities. We also contribute to tertiary training  by linking various training institutions to update and standardise journalism curricula.
Media freedom news from our chapters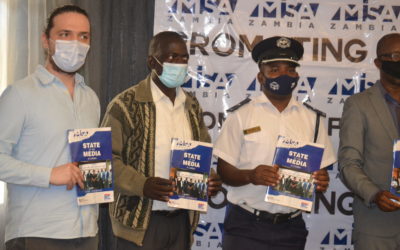 MISA Zambia has launched the State of the Media report for the fourth quarter of 2020. Speaking during the launch of the report, MISA Zambia Chairperson Hellen Mwale in a speech read on her behalf by MISA Zambia Board Treasurer Jetty Lungu says there is need for the...